Bridgestone Dueler A/T 694 Tyres Available in STIRCHLEY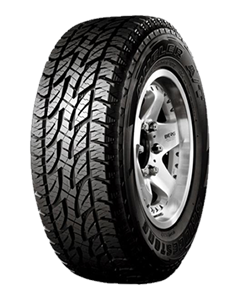 Dueler A/T 694
RUGGED AND STYLISH ALL-TERRAIN TYRE, WITH OUTSTANDING ON-ROAD PERFORMANCE
Bridgestone has designed the Dueler A/T 694 to meet the growing demand from urban drivers for rugged, all-terrain patterns. This new tyre keeps the capability and appeal of an aggressive all-terrain look, while providing outstanding on-road performance, especially in the wet.
BETTER WET GRIP
Applied for the first time on a Bridgestone 4X4 tyre, the Dueler A/T 694 incorporates 'Shark Skin' technology that reduces flow resistance on the groove walls, improving drainage away from the blocks and reducing hydroplaning.
MORE EDGE EFFECT ON WET AND SNOW
High-density siping provides more edges to bite into wet and snow. 3D Z-shaped sipes, which increase in length as the tread block wears, maintain this bite to give consistent grip throughout tyre life.
AGGRESSIVE, CHUNKY 4X4 LOOK
Robust, all-terrain tread pattern
Attractive sidewall design
M+S marking with white lettering on some sizes
HIGHER WEAR RESISTANCE
The tread blocks are shaped to equalise contact pressure distribution, thus raising overall performance and reducing wear rate.